Charlotte County Imagination Library
The Charlotte County Imagination Library is an affiliate of Dolly Parton's Imagination Library, which originated in Sevierville, Tennessee in 1996. The Imagination Library has grown to serve over 1.5 million children across the United States as well as Canada and the United Kingdom.
The Charlotte County Imagination Library was launched in 2011 by local salon business owner Shawn Smith Gilstad of Hair By Shawn & Co. Growing up in Tennessee Shawn had seen firsthand what a difference the gift of literacy could mean for the children of a community. Shawn's vision of bringing the gift of literacy to Charlotte County children required that he partner with an established 501(c)3 Non-Profit. Shawn joined forces with Sherrie Moody, Executive Director of the Charlotte Players, the one of the oldest 501(c)3 in Charlotte County. A great partnership was formed.
Our program is run by local educators, business owners and community supporters and is funded by local business sponsors and community donations.
Our purpose is to promote early childhood development, encourage parent-child interaction, enhance children's literacy and better prepare youngsters for kindergarten.
We welcome all children under the age of five to enroll in this program. There is no better time to start reading to a child than now. The Charlotte County Imagination Library is excited to be able to offer this service to the children and parents of our community!
Actively Enrolled: 2,242 Pre-school Children
Graduates of CCIL: 2,724 Pre-school Children in Charlotte County
Total number of Children Served to Date (since March of 2012): 4,966
Books Mailed since 3/2012: 124,289 at a cost of $261,000
GOAL: Serve ALL Charlotte County Preschoolers; Currently we estimate that we're serving about 45%.
Comedy for a Cause
Comedy for a Cause is the Charlotte Players' Annual Fundraiser. This year's event was held on October 15 at the Charlotte Harbor & Event
Center. We are grateful to our sponsors, the participants, attendees, and our wonderful volunteers. They made this another successful event. Check back for 2022 dates!
Kids Onstage Camp/Workshops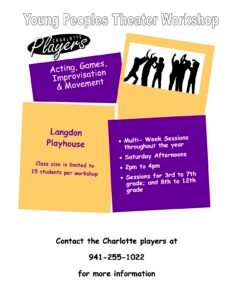 Charlotte Players has a commitment in our community to offer dynamic workshop opportunities for both young people and adults.
Workshop series are always on going and presented at the Langdon Playhouse on weekend afternoons.
Workshops can include acting training for all ages, skills for building success with improvisation, character development, confidence on stage and specific practice in a variety of acting techniques.
The Players is always developing new and exciting workshop opportunities, so please be sure to check in with the staff and find out about upcoming registrations.
Kids Onstage Registration form Summer 2023
Kids Onstage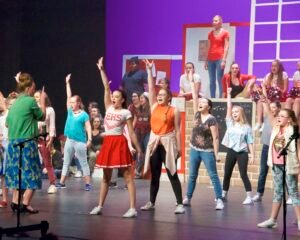 Kids Onstage is an exciting summer theatre kids workshop experience that has been presented by Charlotte Players since 2007. Students from 1st to 12th grades in Charlotte county can participate in this dynamic live theatre opportunity with a two week long daily summer camp that culminates in multiple performances of a complete production.
Throughout the two-week camp students will learn how to sing and dance, stage a play, rehearse their blocking, create characters. work together with their fellow actors and technicians and perform for their friends and family with full costumes, scenery and lighting, and all produced in only 24 contact hours. This magical experience each summer is the perfect opportunity for a young person to express themselves, and build their personal confidence and social skills.
https://www.facebook.com/KidsOnStageCP/
For registration information, please contact the Players office at 941-255-1022. Curtain up on the KOS annual camp is each June with registrations available in April.