Audiences are in for a treat when mentalist Bill Gladwell presents his unique show at the Charlotte Players' Langdon Playhouse in Port Charlotte on Sunday, Jan. 26. Trip Advisor calls Gladwell's performance "a mind-blowing show with lots of big laughs."
Gladwell is not a mind-reader, psychic or magician. He calls himself a "thought-reader," having mastered the unique art of reading and influencing people, and he demonstrates what Liam Neeson might call his "very particular set of skills" in thought-provoking performances at corporate events, resorts, theaters and performing arts centers across the country.
"I use a little bit of suggestion, but I also know how to read people," he said.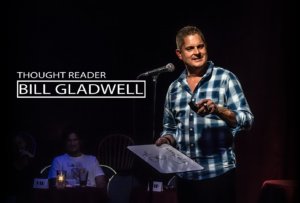 His show was rated number one on Hilton Head Island and in Gatlinburg, Tenn., where he went up against more than 60 other shows. He has performed for audiences as small as 10 people and as large as 45,000.
"During his 90-minute performance, Bill will seemingly pull thoughts directly from your mind, predict what you'll say before it comes out of your mouth, and read you like an open book," said Charlotte Players Executive Director Sherrie Moody.
Gladwell takes the stage at the Langdon at 2 p.m. Tickets are $22 for adults and $11 for students and may be purchased online at www.charlotteplayers.org or by calling the box office at 941-255-1022 between 10 a.m. and 3 p.m. Monday through Friday. The Langdon Playhouse is located at 1182 Market Circle, Port Charlotte.